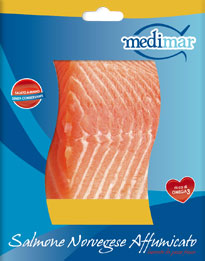 Salmon
100 - 200 - 500 g.
Salmon
Premium sliced 900g.-1,3Kg.-1,7Kg.-2,2 kg.
Whole from 1,7 kg. to 2 kg.
Natural from 900 g. to 1,3 kg.
Our salmons are imported fresh from Norway, from leading companies in the livestock sector with sea cages. The quality is maintained thanks to the cold temperatures of the Nordic Seas, which maintain its taste and freshness.
The smoked salmon Medi Mar is obtained by careful work on the Norwegian salmon of the highest quality. Product packaged in filet or sliced​​.